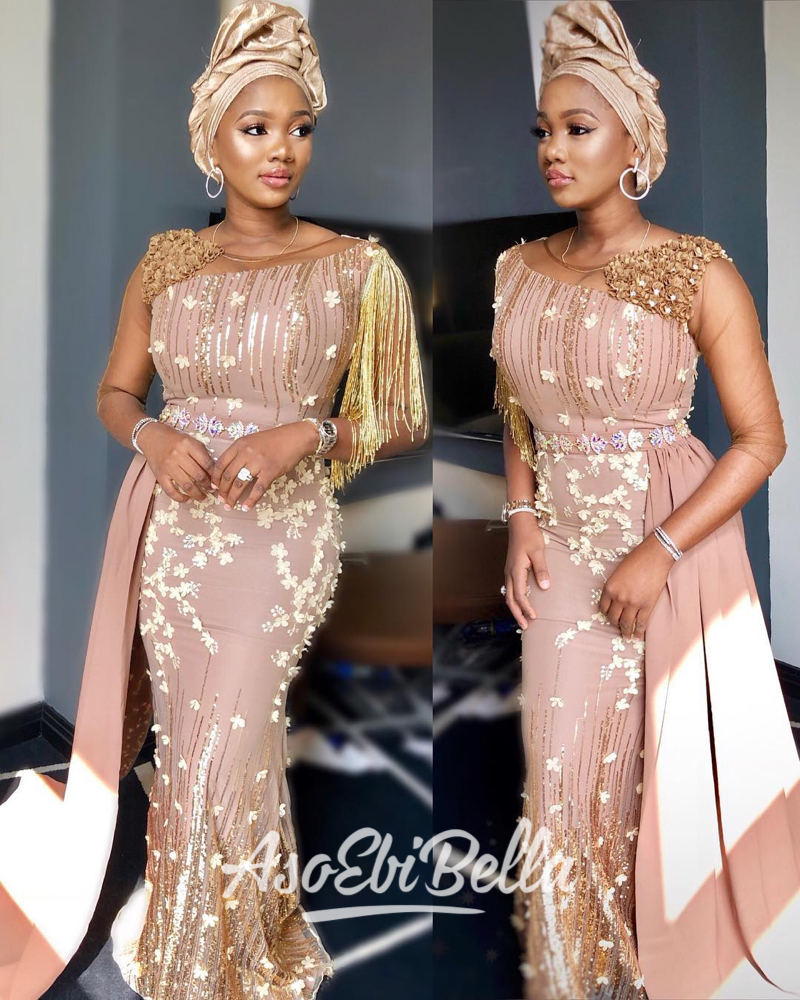 Belle @bellobusayo in @sarabellcoutureng Makeup @ariyike_mua Gele @i_am_ajokegele .
At This session We present an Event and wedding guest looking stunning in Aso-Ebi and other top fabrics in EBFabLook – the fabric/colours of the day at a traditional engagement or wedding and also Our fashion column where we showcase our reader's outfits for any event and their Sunday wears.
How To Submit at Emmanelsblog fabulous look "#EbFabLook":
Hashtag your photo using #EbFabLook on Instagram Or Facebook We will pick your best look and feature you
– Click here for ALL the fabulous editions.
Don't forget to follow us For wedding inspiration on Instagram, tap that Follow button –
#EbFabLook
for EB Fabulous Look only & Aso Ebi visit asoebibella.com – our Instagram page
@emmanuelsblog
!
Below are a few styles we got from last week
@Ebuka in @deco_d29
Makeup @genoveramakeovers
#slyD18 @arewa_ade #Asooke @bimmms24 photo @raremagic_gallery
@temiflawless for #SAA18 | Dress @larmmiebyolamide | @olamidegiwa
@la_bimbs Makeup- @beautycookstudio
@bellomariam10 in @sarabellcoutureng
@strictlybrides for #MRS50
@tadeayeni Fabric- @bunniebees_fabrics Makeup- @prettifiers
@nhn_couture in @celebrityqueenn Fabric @nhn_couture
@bridalsbyivy Makeup – @divadivinemakeovers
#AsoEbiBella MUA @tomilolaofbiggles
@_iphy
@elizabeth_elohor | Makeup – @banksbmpro
@lindaosifo in @tiannahsplacempire for #TFAA2018
@sirleobdasilva decked in @deco_d29
#AsoEbiBella in @jeaneelcouture_official
@moladeh_a in @chic_byveekeejames
@bissie_o in @iyshacouture
Makeup – @blendedbyadetoun
@adengo_
#AsoEbiBella in @aprilbykunbi | 2nd dress @bunm_i feathers | Asooke @bisbodv | Fabric @lolarsfabrics
@modest_wraps Dress- @twins_raudoh
#AsoEbiBella
@latashalagos
@yinkaodukoya
@nudkulture
#AsoEbiBella MUA – @golden_glitterz_kn
@iamteddya x @bammybestowed Styling- @houseofjahdara_ @tiannahsplacempire
#AsoEbiBella @crystalblink for #aarescue2018 Dresses- @candinosignatore Makeup- @chisyy_ Avant-Garde Gele- @emeraldglamofficial @peacepolycarp
@ambition_by_whitney
@ruqayyah_dp
@iambisola in @somobysomo | 💄- @makeupbyashabee | Hair @amuzatfatimah | #TFAA2018
@efeirele in @sisinosa Gele- @taiwos_touch Makeup- @teamnomey_j Fabric- @beautefabrics
@ebuka in @attirequest
@julietrufus_ Makeup- @leatty.beauty
@arabylaide x @olabankebanjo 📸- @jidekola | Brides Makeup- @oshewabeauty | Gele- @taiwos_touch Asooke- @shadiat_alasooke
#AsoEbiBella Photo by – @focusnblur
#laahlaland18 Makeup- @_firenze_ Outfit- @hitohan.ng Fabric- @glitz_allure_fabrics Asooke- @dammys_asooke
#SadeOkoya
@sharonooja in @trishocouture | Makeup- @makeupkwin @gedebe
@officialngozinwosu in @bunniebees_fabrics Beads- @gbengaartsmith
@tobibakre
@trish_zee in @kim_couture for #ray18
@iniedo in @lizjohnblackfashion
@chic_byveekeejames
#AsoEbiBella in @ceolumineeofficial
@chikaike for #tfaa2018 Dress by – @tubo__ Makeup- @debbysez Hair- @haircraft_ Shot by -@zurielfilms
@symplysimi in @accostcollection
#AsoEbiBella in @nudkulture
@makeupbyjaytee
@chinnyco
@omowunmi_dada #MeetTheShoks18
@adaachina Photographer- @jgatesvisuals Makeup- @lillianopaul Dress- @jexmeritz_clothing #OnElove1819 #AsoEbiBella
Dress by @udaracouture
#RemyMa2k18 Photo by @sorce_photography
@inidimaokojie
@tobibakre
@bhomsy_stitches
@yemialade @tobibakre @bolanle
@leggomyego
@laular_1
@shalomblac in @laviebyck
@ebuka x @mofedamijo
@afua_rida in @stylistagh | Fabric @Vlisco
#AsoEbiBella
@officiallindaikeji in @yuteerone
@jennifer_koranteng in @elom_fiagbe
#AsoEbiBella in @kaysluxefabrics Earrings @the_gemstones_gallery
Betty MUA @mildbellaza
@__tiat in @kofade_couture
@nanaakuaaddo in @danthony.designz
@zainabbalogun in @trishocouture for #TFAA2018
@symplysimi and @arabylaide in @shadiat_alasooke
@tobibakre in @michaelblackcollection
@christiebrowngh
@cheferos in @mrmofits
#AsoEbiBella
#AsoEbiBella @anitahfabiola ❤️ __________________________________________ @facemechanicgh @kushbytaylar Photo by @chocolate_shot_it
@thechefchi in @kolisaofficial
@therealrhonkefella Makeup- @soars_artistry | Fabric- @wearankara
@ellaroseinteriors Photo by @m12photography
@theunidenticalduo
Azaria @ 1😍😍💕 Mum's Asooke by @houseofasooke🙌💕 Azaria's Asooke by @royalivy_asoke Thank you mama @harlequinxx 💕 Photo by @m12photography
@the_j3_sisters Photographer- @marc_songz Stylist- @deebonitas Makeup artist- @abigold_beauty Hairstylist- @hairbyriches
@o.oluwanishola & her cutie x mini #Wizkid 😍TIFE @czar_czarina | @tradsbyczar_czarina
@nnekriss1
@yomisummerhues! Fabric- @fabriccentral Jewelry- @malcmorhjewelry Makeup- @mlprobeauty
Love this Article? Please Subscribe to our Youtube Channel to get all the Quality Content in video format, & also use the comment section below to share your opinion for the world to see! & don't forget to share!!
Subscribe Here