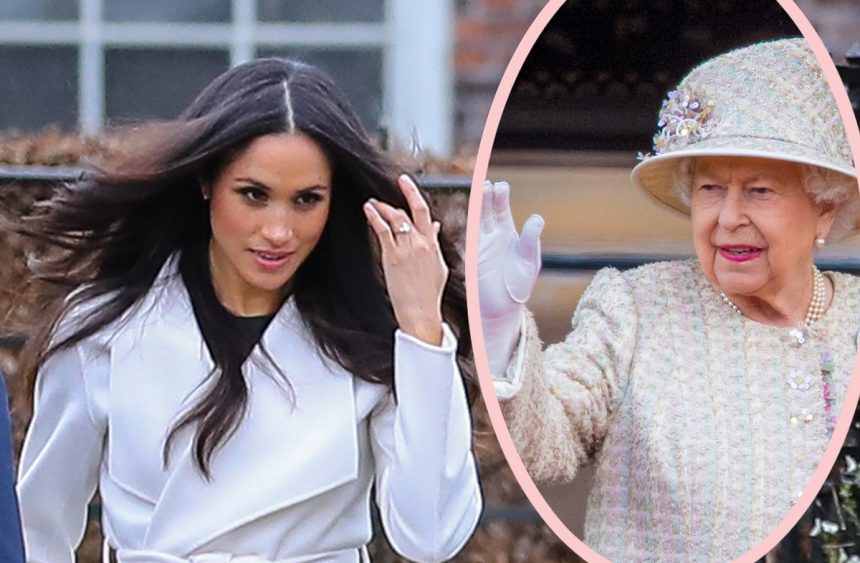 We've heard some pretty reasonable arguments for why Queen Elizabeth put her foot down and stopped Prince Harry and Meghan Markle from using the word "Royal" in their official branding from here on out.
One thing we hadn't heard before? It's "payback" for the insult of stepping away from the family.
Yes, according to a source inside the Sussex fam's inner circle, Meghan is complaining all this fighting over what they call their charity is all just revenge for Megxit.'
The insider tells DailyMail.com the Duchess is complaining to friends that she and Harry are actually being "picked on" and only bowed to Her Majesty because they were forced to!
"Meghan said that [she and Harry] were left with no choice but to make a public statement."
Saturday's statement confirmed the couple would not be transferring their Sussex Royal Instagram moniker to their new organization:
"The creation of this non-profit entity will be in addition to their cause driven work that they remain deeply committed to. While The Duke and Duchess are focused on plans to establish a new non-profit organization, given the specific UK government rules surrounding use of the word 'Royal', it has been therefore agreed that their non-profit organization will not utilize the name 'Sussex Royal' or any other iteration of 'Royal.'"
However they also seemed to suggest they could have as Liz has no power over what they do in other countries:
"While there is not any jurisdiction by The Monarchy or Cabinet Office over the use of the word 'Royal' overseas, The Duke and Duchess of Sussex do not intend to use 'Sussex Royal' or any iteration of the word 'Royal' in any territory (either within the UK or otherwise) when the transition occurs Spring 2020."
According to this insider, that little hint of rebellion was not in our imagination. While Meghan's father may believe their exit was "an insult to the Queen" (because he suddenly cares about British monarchy protocol all of a sudden), Meghan is reportedly telling her friends it's the other way around now:
"She said if anyone should feel insulted, it should be them. They never intended to capitalize on the word royal, and to insinuate they were somehow abusing their privileges is absurd… She said the reason they created their website in the first place was to be as transparent as possible. What was written was carefully worded and was in no way a jab at the Queen."
This insider says Meghan doesn't even believe it was the Queen's idea but instead is speculating the 93-year-old was "under pressure to make those demands about the name change" from the other members of The Firm. Why? Because in her words Harry is Elizabeth's "favorite and others just can't deal with it."
But the source says Meghan is talking about taking the high road in the same breath as she's complaining:
"She said she and Harry will continue to rise above jealousy and pettiness and focus on the good they are creating and on being the best parents to Archie. She said she will continue to champion Harry because out of everyone, he has the most integrity and the most loyalty."
Out of everyone… as in… out of all the Royals?? Obviously she should feel like her husband is the best guy ever, but that does seem a bit insulting to the rest of the fam.
What do YOU think of Meghan's reported attitude about the whole "Royal" kerfuffle??
Do You like our post? Make sure you never miss any of it! Follow us on Twitter it will encourage us alot Follow @EmmanuelsblogTV on Twitter
Click here to Subscribe to our Channel